QScholars Undergraduate Research Symposium
The UCLA LGBTQ Studies Program Presents the 6TH Annual 2019 QScholars Undergraduate Research Symposium! 
Date: Friday, April 26, 2019, 8:30am- 4:00pm 
Location: Charles E. Young Research Library (YRL), 280 Charles E Young Dr N, Los Angeles, CA 90095
This year's theme "Our Existence is Resistance: [Art]iculating Our Lives, Identities, and Activism in the New Millennium" explores the hxstory of violence and resistance within Queer experiences and the use of art as a tool for social change. There will be two undergraduate scholars research presentation panels, a panel of video/film projects, a mural unveiling, an art-making workshop with Queer Chicana artist and Professor Alma Lopez, and a beautiful keynote presentation by La Loba Loca.
This event is completely free and open to the community. The committee is only asking attendees to please register by filling out this form. We are providing food with registration so please be mindful of registering ASAP. The agenda for the day will be posted very soon.
Register Here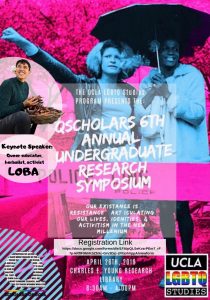 As an undergraduate student organization, QScholars strives to give self-identifying LGBTQ+ undergraduate students the opportunity to engage in and present research that focuses on LGBTQ+ themes and issues that are not given an active platform in academia.
If you have any further questions feel free to send us an email at qscholarsucla@gmail.com and follow us on our social media:
Facebook: QScholars UCLA
Instagram: qscholarsofucla
---
CALL FOR PAPERS!!!  ***Deadline to submit your 200-300 word abstract to QScholarsucla@gmail.com is FRIDAY, MARCH 29th***
We encourage LGBTQ Studies Minor students to participate!
The 2019 Q Scholars undergraduate research symposium will focus on exploring the hxstory of violence and resistance within Queer experiences and the use of art as a tool for social change. Things to think about: How do Queer/Trans folks exist and resist within/against violent systems of oppression, such as politics of hate and white, male heteronormative supremacy? Hxstorically, how have Queer/Trans individuals enacted systemic change through art, self-preservation and love? How do we continue to overcome the social and political policing of Queer/Trans bodies as a means of attaining our own liberation? How do we actively support and empower ourselves and others?
We seek papers falling within any of the following themes:
– Reclaiming Space & Power through ARTivism
– Queer Performativity, Expression, & Intimacy
– UndocuQueer/UndocuTrans Visibility
– QTPOC: Re-writing & Re-envisioning Hxstory
– Trans/Queer Bodies vs. the Nation-State
– Objectification of Femme Bodies & Labor
– Appropriation of Queer Black Culture
– (In)Visibility of Indigineity in Queer Narratives
See flyer here: Q Scholars (final CFP)