Message from the Chair
Dear Alumni and Friends,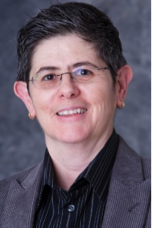 Welcome, or welcome back, to the UCLA Lesbian, Gay, Bisexual, Transgender and Queer Studies Program! We have offered a minor since 1997 and are quite proud of all we have accomplished.
We offer an amazingly rich selection of undergraduate courses. I urge you to look at the complete list, which can be found under "past courses" elsewhere on this website. Since 1999 we have organized the only annual queer studies conference in the United States, bringing scholars and students from around the country to UCLA and enhancing intellectual life here on campus. In 2014, we started the Annual Undergraduate Research Symposium to showcase the work of our minors and other undergraduates engaged in LGBTQ research. In 2015, we welcomed our first U.C. Regents Lecturer, producer/director/ performance artist, Dan Guerrero, or "¡Gaytino!" In 2016, Masen Davis, Co-Director, Global Action for Trans* Equality, was our UC Regents Lecturer, with the co-sponsorship of the Williams Institute and the Center for the Study of Women. Also, we have begun working on writing our proposal for the first Ph.D. program in LGBTQ Studies in North America.
The LGBTQ Studies Program serves as the most visible sign that UCLA is committed to scholarship and teaching on LGBTQ topics. Our work, even our mere existence, provides crucial support to those students and faculty who, for whatever combination of personal, political, or intellectual reasons, have a stake in teaching and learning about issues that affect sexual and gender minorities.
We hope you will want to stay in touch and remain involved in the growth of the program. We would be delighted to see you at any of the lectures or conferences that we organize. You can find a list of upcoming events on our website. If you have any comments on our website or would like to send us your news or get more involved with the program, please don't hesitate to drop me a line at agdealba@g.ucla.edu.
As well as your involvement, we need your support. We are fiercely committed to public education despite the fact that state funding for UCLA continues to decline. However, at a time of radically diminished resources, small programs like ours are particularly vulnerable. Your donation will help the program remain a vital center of LGBTQ teaching and scholarship on campus. You can also direct your donation to help foster the development of our graduate program.
I thank you for your continued commitment to the LGBTQ Studies Program at UCLA and look forward to hearing from you or seeing you at a future event.
Best wishes,
Alicia Gaspar de Alba, Ph.D.
Chair, Lesbian, Gay, Bisexual, Transgender, and Queer Studies Program
Professor of Chicana/o Studies, English, and Gender Studies