Message from the Chair
Dear Alumni and Friends,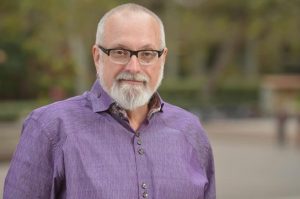 We welcome you back after a time of changes. The academic year 2018-19 brought several transitions to the Program in LGBTQ Studies here at UCLA. Our indefatigable staff member Jessika Herrera has moved into a different position, and we have found a marvelous new Student Affairs Officer: please help us welcome Jaclyn Robbin, who has already become an essential part of our team! Professor Alicia Gaspar de Alba, our Chair since 2013, has stepped down after leading a period of development that has seen not only the continued success of QGrad, our annual graduate student conference that attracts students from across North America, but also the strong foundation of its undergraduate counterpart, QScholars. Thanks to her energy and imagination, the program has also explored a number of possibilities for expansion or our program better to serve our students at UCLA as well as learners in the larger Los Angeles communities, and we hope to be sharing news of our offerings and initiatives in the next few years as our work continues.
I am also part of this transition, so let me take a moment to introduce myself. My name is Mitchell Morris, and I am a Professor of Musicology in the Herb Alpert School of Music at UCLA, where I was hired in 1997; in my 20+ years at UCLA, I have also been a member of the Faculty Administrative Committee in LGBTQS practically since its birth! My scholarly specialties are varied, but I am best known for my works on music and sexuality—particularly popular music, but I also spend a lot of my time, uh, operatically. I look forward to collaborating with our exceptional faculty in finding richer ways to bring our intellectual work into closer contact with our constituencies.
This quest for engagement is all the more necessary in the troubled times we are experiencing as a nation, and indeed, as a world. Some of our contemporaries are wont to scoff at the term "intersectional" as if it were a simple term of good feelings and moral gamesmanship; but any careful observation of the politics of demonization and neglect that greets us all daily can show how often all of us Others of each and every description can get trundled off into the same small leaky skiff that has to serve as a lifeboat. We are all multiple while being "individuals." We contain worlds—and many of those worlds are endangered. The more we try to comprehend out glorious variations, the deeper our empathy and the richer our imagination. These are among the goals to which our program wishes to commit itself. We hope our Newsletter helps provide a glimpse of such an enlivening difference.
As part of our work to serve UCLA and the larger community, we are involved in several new initiatives to look for in the coming months. QGrad, our annual graduate student conference drawing participants from the US and abroad, will be coming up in January 2020; QScholars, its undergraduate counterpart, will take place in May 2020. Many more announcements about these conferences will appear on our website. In addition, three new things are worth particular notice:
—For graduate students and postdocs, we are sponsoring a Queer Graduate Pedagogy Discussion Group—come join us on the 4th Tuesday of the month, starting October 2019, and share experiences and ideas about being a queer teacher teaching queerly in content and style, and enjoy light refreshments while you do it!
—The program, thanks to the generosity of the UCLA Division of Humanities, is able to revive its distinguished lecture series in a new format. Called QueerCurrent, this lecture series will foreground recent scholarship in LGBTQ Studies from multiple disciplines. Announcements about the list of speakers and the 2019-2020 dates of their visits are forthcoming.
—In November 2019, LGBTQ Studies has joined with the Herb Alpert School of Music and many other departments to sponsor the premiere of a new opera, Juana, based on the novel Sor Juana's Second Dream by our own Professor Alicia Gaspar de Alba. Performances are scheduled for November 22nd and 23rd. In addition to the performances, there will be a two-day symposium involving performers and scholars. Entitled "You Imagine Me and I Exist: The Afterlives of Sor Juana Inés de a Cruz (1648-1695)," the symposium will offer a rich array of reflections on the celebrated poet/scholar and her times, as well as considerations of its resonances with our own times. We are proud to help support this magnificent endeavor!
Please keep an eye on our web site, because we look forward to more updates soon!
Best wishes,
Mitchell Morris, Ph.D.
Chair, Lesbian, Gay, Bisexual, Transgender, and Queer Studies Program
Professor of Musicology, Herb Alpert School of Music