Area Impossible: Sexuality and Geopolitics Symposium
May 25, 2018 @ 9:30 am
-
6:30 pm
Humanities Conference Room, Royce Hall 314,
10745 Dickson Plaza




Los Angeles

,

CA

90095

United States
+ Google Map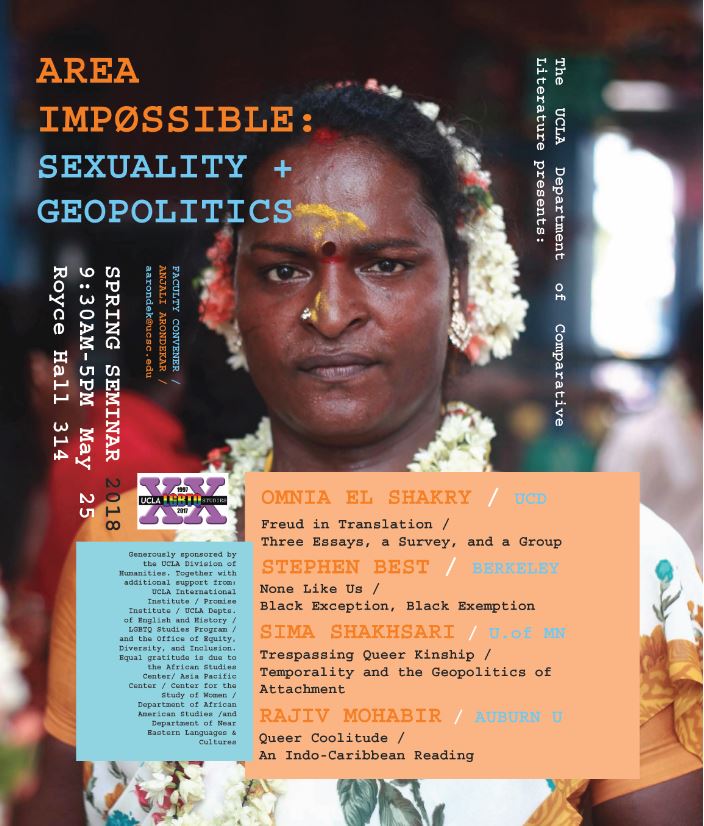 Within queer studies, the geopolitical has posed a much-needed challenge to the spatial and temporal logics of the field (logics that often mire the field in the US), especially in the aftermath of the turn to transnationalism. Comparative literature has historically fashioned its domains outside US borders, but despite its range has remained somewhat tied to nationalist coagulations/formations.  This symposium brings together speakers who engage comparative analytical forms towards a more disruptive and capacious queer geopolitics.
To RSVP, please click here.
Program
9:30-10:00am
INTRODUCTORY REMARKS
Anjali Arondekar, Visiting Associate Professor of Comparative Literature, UCLA and Associate Professor, Feminist Studies, UCSC
WELCOME ADDRESS
David Schaberg, Dean of Humanities, UCLA
10:00-10:45am
QUEER COOLITUDE/ AN INDO-CARIBBEAN READING
Rajiv Mohabir, Assistant Professor of English, Auburn University.
11:00am-12:30pm
FREUD IN TRANSLATION/ THREE ESSAYS, A SURVEY, AND A GROUP
Omnia El Shakry, Professor of History, UCD
Respondent: Gil Hochberg, Ransford Professor of Hebrew and Comparative Literature, and Middle East Studies, Columbia University
12:30-1:30pm
Lunch for participants
1:30-3:15pm
TRESPASSING QUEER KINDSHIP/ TEMPORALITY AND THE GEOPOLITICS OF ATTACHMENT
Sima Shakhsari, Assistant Professor of Gender, Women, and Sexuality Studies, University of Minnesota
Respondent: Ananya Roy, Professor of Urban Planning, Social Welfare and Geography, UCLA
3:15-3.30pm
Coffee break
3:30 -5:00 p.m.
NONE LIKE US/ BLACK EXCEPTION BLACK EXEMPTION
Stephen M. Best, Associate Professor of English, University of California, Berkeley
Respondent: Shana Redmond, Associate Professor, Musicology and African-American Studies, UCLA
5:00-6:30pm
Reception