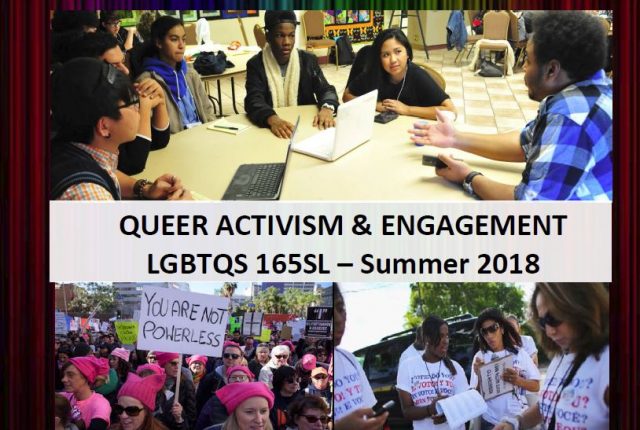 Summer Session A 10 Weeks (June 25-August 31) 4 Units
Tuesdays 10:00am-12:50pm HAINES A74
Instructor: Michael Fleming
**LGBTQS Minors please note this service learning course cannot be substituted for required course LGBTQS 180SL*
Visit the UCLA Summer Sessions website to enroll.
LGBTQS 165SL, Queer Activism & Engagement, benefits students pursuing a minor in Lesbian, Gay, Bisexual, Transgender, Queer (LGBTQ) Studies, those passionate about social justice or those who simply want to learn new skills about community engagement.  The goals of the course are:
To offer an opportunity to work in LGBTQ-related community organizations.
To reflect on the political and theoretical issues involved in such work and such organizations.
To serve as an opportunity for students to draw together ideas from the various courses they have already taken and test them in settings outside the University.
Course Requirements:
Service Learning:  Students will spend a minimum of 40 hours during the summer quarter (roughly 4-5 hours per week) working in one of three organizations outlined below. Students will sign up for projects on the first day of class and will work as part of a team with colleagues from this course. Responsibilities of the hands-on learning experience are to be developed among the site supervisor, the student, and the instructor. Leaders of some of the organizations with which we work will also attend seminar meetings during the quarter to share their work with the entire class and join our discussion of readings, providing context for the history and ongoing work of LGBTQ community organizations.