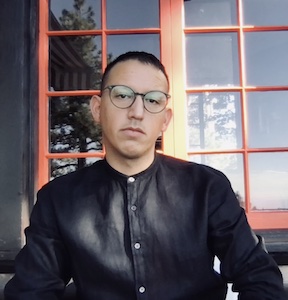 Joshua Javier Guzmán, assistant professor of gender studies and chair of the LGBTQ studies program at UCLA, received a 2022 Andy Warhol Foundation Arts Writers Grant in support of his new book, "Brown Exposures: Queer Photography and the Literary Aperture."
Funded by the Andy Warhol Foundation for the Visual Arts and administered by Creative Capital, the program "supports writing about contemporary art and aims to ensure that critical writing remains a valued mode of engaging with the visual arts," according to the grant website. The site includes a synopsis of Guzmán's forthcoming book:
Joshua Javier Guzmán's book Brown Exposures: Queer Photography and the Literary Aperture will consider experimental Latinx and queer punk photography between 1979–95, including the group of artists known as the Boston School, such as David Armstrong, Nan Goldin, and Mark Morrisroe; the photographic, video, and literary works of LA-based queer and Chicanx artists Diane Gamboa, Laura Aguilar, and Reynaldo Rivera; and the work of San Francisco–based artist Lourdes Portillo. Guzmán will compare the photo- and language-based processes of these artists and the ways they have responded to policing strategies, lethal drugs, surveillance, pollution, malfeasance, illness, incarceration, and other unspeakable acts of disrepair that Reaganite policies inflicted on disenfranchised communities from the late 1970s through the 1990s.
The book will be Guzmán's second; his first book, "Dissatisfactions: Queer Chicano Style Politics," forthcoming from NYU Press, focuses on post-1968 Los Angeles. "Brown Exposures," he said, keeps generally to the same time period but looks at both Los Angeles and New York City.
"Each chapter will take someone from the L.A. school and someone from the Boston school and read the photographies together, because these are two groups who are taking photographs of their chosen family, their friends, going out, looking at performances and art," Guzmán said. "The idea is that both of these schools are taking the camera's gaze and turning it inward into their own communities, photographing queer minorities as subjects."
Guzmán plans to use the grant funding, he said, not only for travel and other expenses for his research, but to buy a film camera so he can try to emulate and embody the research he is conducting for the book.
Receiving the grant, he said, was a major accomplishment for him. "I'm really glad to represent UCLA in this grant — it's very exciting to be honored by the foundation. I think they only funded four or five books on writing about the arts around the world," he said. "So, it's nice that I was able to bring something here to UCLA. I hope that readers learn something from the research and feel some sense of hope from the art."
Joel Wachs, president of the Andy Warhol Foundation for the Visual Arts, said in a press release: "The Andy Warhol Foundation Arts Writers Grant supports a dynamic range of writing about the visual arts. The writing of the 2022 grantees engages historical and contemporary artistic practices that challenge, illuminate, and expand on urgent issues of the present. Thanks to the rigorous, adventurous, and generous approach of these arts writers, the concerns of contemporary visual artists and their communities can become part of the broader cultural discourses that shape our contemporary moment."
*Original story published on UCLA Humanities Division's blog: https://humanities.ucla.edu/faculty-department/ucla-professor-joshua-javier-guzman-discusses-warhol-foundation-grant/