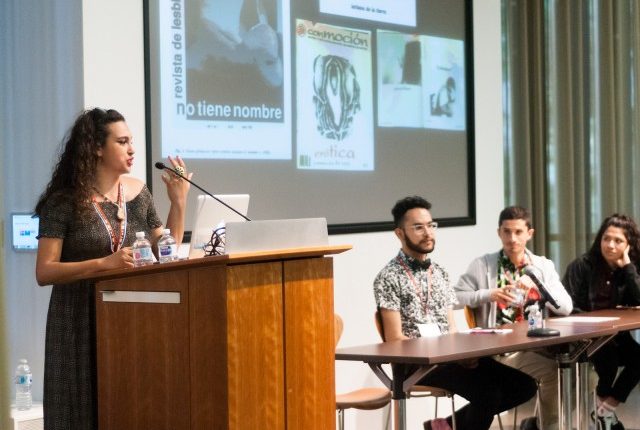 Posted: May 20, 2018
UCLA's LGBTQ Studies Program celebrated the 20th anniversary of the LGBTQ studies minor Friday.
The program held a research symposium in which a panel of QScholars – undergraduate students pursuing LGBTQ-based research – and visiting speakers discussed their research and personal experience with sexuality by telling stories. The panel addressed questions related to the struggle, resistance and resilience of the queer community and its allies on campus.
Alicia Gaspar de Alba, chair of the LGBTQ Studies Program and a professor of Chicana/o studies, English and gender studies, has been a part of the minor since its inception in 1998.
"(Faculty said) to me, 'We want to start a LGBTQ minor, and we want you to be a faculty advisor,' and I thought it was the best news I've ever heard," Gaspar de Alba said. "I've been with the program ever since."
Over the years, Gaspar de Alba said she has noticed an increase in the popularity of the LGBTQ-related courses she has taught on campus. She said she strives to maintain an environment where students feel free to question and think about their own sexual identities without fear of ridicule.
"My classes have grown from 20-25 to 60 or 70 students (per quarter), but I always make sure that there is time to create a safe space," Gaspar de Alba said. "I create as close to a safe space as I can in the classroom, so that students who feel like they are wrestling with issues of sexuality and gender identity can use the space in the classroom to process some of those feelings."
Gaspar de Alba has proposed UCLA create what would be the first world's first Ph.D. program for LGBTQ studies. She said she hopes UCLA will start accepting students in 2019 or 2020 and begin instruction in 2020 or 2021 if the proposal is approved.
"The proposal is making its rounds around campus for the vetting and approval process," Gaspar de Alba said. "We're at the point in the field where we can actually sustain Ph.D. studies because it's grown so much as a field. … There is interest out there, very much so."
Emily Padilla, a second-year gender studies student who helped organize the event said she thinks undergraduate research in LGBTQ studies is typically undervalued.
"I know that my research has been underestimated before, so it's cool to have people want to see this super awesome research here," Padilla said. "I want to get everybody into this space. The plan of QScholars is to have everybody, not just queer folk, everybody, in here to learn about these queer topics."
Padilla added the support they have gotten from the LGBTQ Studies Program has encouraged them to continue their research and present their discoveries through storytelling, even if storytelling is not as highly regarded in academia as other forms of research.
"In academia, storytelling isn't really seen as a valid form of knowledge production, it has to be academic, it has to be technical," Padilla said. "Fortunately for me, I've had the support of the entire LGBTQ Studies Program and the support has been wonderful."
Yen Dinh, an undeclared first-year student, presented a drawing of a mask at the event to symbolize the masks students wear in social settings to hide personal struggles.
"I feel like everyone wakes up everyday and goes to school, we have class, we do homework and then we come back, and the cycle repeats," Dinh said. "Someone might have just lost a family member, maybe another person is struggling financially. … The point is we don't know because in society we're taught to maintain this professionalism because we're in academia."
Bianca Sanchez, a third-year environmental studies student who presented a drawing of a butterfly at the event to represent growth and transformation, said she was initially concerned she would be intruding as a nonqueer person.
"(The symposium is) inclusive, and this is a place that I wouldn't necessarily go on my own because I don't identify as queer," Sanchez said. "It's kind of like do I have the right to even come, like do they want us to see them in their truth like this?"
Gaspar de Alba said the LGBTQ studies minor is open to students of all sexualities and backgrounds. She added she thinks it would expose nonqueer students to a culture they may be unfamiliar with.
"For students who aren't queer, it's like being immersed in an entirely new world," Gaspar de Alba said. "From that I would imagine that either they would be allies or become allies, and we always need allies."
Contributing reports from Maya McNealis, Daily Bruin contributor.