Alma Lopez Gaspar de Alba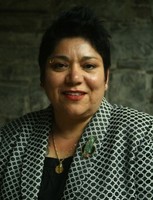 Alma López is one of the most visible Chicana artists active today," says Art History Prfessor Charlene Villaseñor Black. "She is prominent because of her cutting edge artworks as well as her feminist activism."
Lopez gained notoriety in 2001, when the Catholic Church attempted to censor her digital print, Our Lady, which was showcased in the exhibition Cyber Arte: Where Technology Meets Tradition, curated by Tey Marianna Nunn at the Museum of International Folk Art in Santa Fe, New Mexico. The 9-month controversy took on local, national, and international importance, and brought questions of community representation, institutional autonomy in a public museum, and an artist's first-amendment rights into bold relief. Since the so-called "riots" of 1992, Lopez has dedicated herself to art and activism that bridges the city's various ethnic communities. She has helped to establish several collaborative arts groups, which worked on such issues as immigration, race relations, labor, sexism, and sexuality.
With her mural painting partner, the African-American painter, Noni Olabisi, Lopez has painted a number of murals in South Central Los Angeles and Skid Row, most under the aegis of the City of Los Angeles Department of Cultural Affairs. One mural deserves special mention. Installed at the Angeles Mesa library branch in South L.A. in 1998, Education is a Basic Human Right connects the 1954 Brown vs. Board of Education case that desegregated American schools to a similar case in California, Mendez vs. Westminster, which was brought about by a Puerto Rican/Mexican family and which helped to desegregate public schools in southern California seven years before the Brown case. Their most recent mural, History in Our Hands, was installed in 2009 at the Central Avenue Constituent Services Center in South L.A.
Through her work, her activism, and her popular website, Lopez upholds her position as one of the most important, influential, and visible Chicana feminist activist artists in the country. Currently, she is co-editing with Alicia Gaspar de Alba, Chair of the UCLA César E. Chávez Department of Chicana and Chicano Studies, an anthology entitled Our Lady of Controversy: Alma Lopez's "Irreverent Apparition," to be published by the University of Texas Press in Spring 2011, which brings together prominent scholars to comment on her art and activism and the way they intervened in New Mexico's politics of place as well as in the broader discussions about censorship, public funding, and the arts.
To see examples of her work, visit her website at almalopez.net.