Carlos Santos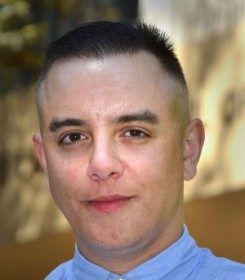 Dr. Santos' research draws on diverse disciplines, theories and methods to better understand how oppressions (e.g., racism, heterosexism, etc.) overlap to create unique conditions for individuals; conditions that are shaped by the contexts one occupies, with implications for one's development and well-being. He is interested in how individuals cope with these overlapping stressors through attitudes associated with membership in different social groups (e.g., having pride in one's ethnic-racial and/or sexual identity group), and positions one occupies (e.g., being undocumented), and whether such coping attenuate or amplify the negative consequences of overlapping oppressions on mental health, educational outcomes, and civic engagement. His research is concerned with questions such as: How are racist and heterosexist events uniquely and jointly related to mental health among queer Latinx youth? Does having pride in being Latinx and/or queer buffer or amplify these effects? Ultimately, the aim is to translate this research into practical intervention.
Dr. Santos has authored nearly 30 peer reviewed publications. His co-edited book with Adriana Umaña-Taylor, Studying Ethnic Identity: Methodological and Conceptual Approaches Across Disciplines, was published in 2015 by the American Psychological Association Press. He co-edited a peer reviewed journal section on the applications of intersectionality to the helping professions published in the Journal of Counseling Psychology, and he co-edited a special issue on the integration of an intersectionality lens in developmental science published in New Directions for Child and Adolescent Development. Along with colleagues, he has received funding from the National Science Foundation and the National Institute of Health. In 2017 he was awarded the "Emerging Professional Contributions to Research Award" by the Society for the Psychological Study of Culture, Ethnicity, and Race of the American Psychological Association.
Dr. Santos received his PhD in Developmental Psychology from New York University, a master's degree in education from Harvard University, and a bachelor's degree from New York University.