Gary M. Segura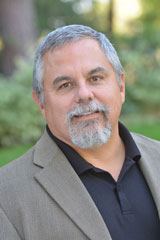 Gary M. Segura is the Dean of the Luskin School of Public Affairs at UCLA.
His work focuses on issues of political representation and social cleavages, the domestic politics of wartime public opinion, and the politics of America's growing Latino minority.  Among his most recent publications are "Latino America: How America's Most Dynamic Population is Poised to Transform the Politics of the Nation" with Matt Barreto (Public Affairs Press, 2014); "The Future is Ours: Minority Politics, Political Behavior, and the Multiracial Era of American Politics" with Shaun Bowler (2011, Congressional Quarterly Press), and two books with the Latino National Survey team: "Latinos in the New Millennium: An Almanac of Opinion, Behavior, and Policy Preferences" (2012, Cambridge University Press), and "Latino Lives in America: Making It Home" (2010, Temple University Press). He has another book in press, "Calculated War: The Public and a Theory of Conflict," with Scott S. Gartner, under contract to Cambridge University Press.
Earlier work has been published in the American Political Science Review, American Journal of Political Science, Journal of Politics, Political Research Quarterly, and the Annual Review of Political Science, among many others.
Over the last 18 years, he has directed polling research that has completed over 100,000 interviews of Americans of all backgrounds on matters of political importance. He has briefed members of both the House and Senate as well as senior administration officials and appeared on National Public Radio, the "News Hour," "Frontline," "the CBS Evening News," MSNBC, and numerous other outlets.
Segura served as an expert witness on the nature of political power in all three of landmark LGBT marriage rights cases in 2013 and 2015, Windsor v. United States, Hollingsworth v Perry, and the historic Obergefell v. Hodges, which recognized marriage equality as a constitutionally protected right. He has provided expert testimony on discrimination in both voting rights cases and LGBT civil rights cases, and filed amicus curiae briefs on subjects as diverse as marriage equality and affirmative action.
Segura was one of the principal investigators of both the 2012 and 2016 American National Election Studies, and was one of the principal investigators of the Latino National Survey, in 2006.
He is a past president of the Midwest Political Science Association and the Western Political Science Association, and a past executive council member of the American Political Science Association. He is a past president of El Sector Latino de la Ciencia Política (Latino Caucus in Political Science). In 2010, he was elected a Fellow of the American Academy of Arts and Sciences.