Michael Fleming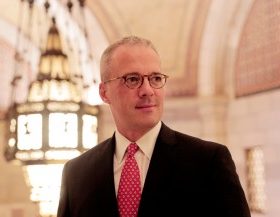 Michael Fleming is the Executive Director of the David Bohnett Foundation – a grant making foundation charged with "improving society through social activism." Since 2000, he has shepherded more than $120 million to organizations and institutions that share the foundation's goals and vision.
Michael has been appointed to boards and commissions at every level of government. In 2021, Governor Gavin Newsom named him as one of his two appointees to the Los Angeles Memorial Coliseum Commission, a Joint Powers Authority between the City of Los Angeles, the County of Los Angeles, and the State of California. He is also a member of the Board of Directors of the Getty House Foundation, dedicated to civic education, community engagement, and the preservation of Getty House, the official residence of the Mayor of Los Angeles.
From 2013 to 2017, Michael served on the Los Angeles Board of Water and Power Commissioners – the five member panel that oversees the nation's largest public utility. He previously served as the President of the East Los Angeles Area Planning Commission and as a Commissioner on the Board of the Los Angeles Convention Center. In 2010, President Barack Obama named Fleming to the White House Council for Community Solutions.
Michael sits on the boards of numerous non-profit organizations including The Carr Center at Harvard Kennedy School, Southern California Grantmakers, and public radio powerhouse KCRW, where he served as Chairman of the Board and Co-Chair of their capital campaign.  For nearly 20 years he's been an adjunct professor of organizational development and public policy at UCLA; from 2013 to 2016 he was also an adjunct professor of public policy at NYU.
Michael is married to California Court of Appeal Justice Luis A. Lavin.