Michael Hunter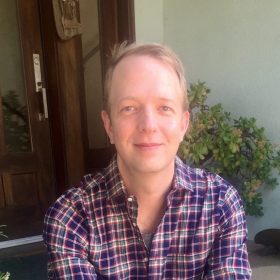 Michael Hunter is a lecturer in LGBTQ Studies and Urban Studies, and the faculty mentor for QGrad and Q-Scholars. He holds an MA in literature from the University of Edinburgh, Scotland, and a PhD in Drama (now Theatre and Performance Studies) from Stanford University, where he was also a Postdoctoral Teaching Fellow in the Humanities. His teaching has ranged across a wide variety of disciplines, including Theatre and Performance Studies, Art History, Poetry and Literature, Food Studies, and Critical Gender and Sexuality Studies. He also teaches courses in Visual Culture and Performance at Otis College of Art & Design.
Michael's research has focused on the relationship between embodiment, writing, and sexuality, especially in the first half of the twentieth century. His dissertation, Bodies at Work in Bodies of Work, examined the life and writing of the eccentric English novelist Ronald Firbank (1886-1926), whose bizarre comic novels represent a highly unusual response to the cultural pressures around gender in wartime England. His work has been published in Performing Arts Journal, Theatre Journal, TDR/The Drama Review, and HowlRound, as well as several edited volumes.
As a theatre director, Michael trained under the late Carl Weber, who was an assistant to Bertolt Brecht at the Berliner Ensemble in the 1950s. Michael has staged works by Pedro Calderón de la Barca, Eugène Ionesco, Joe Orton, Tennessee Williams, Tony Kushner, Heiner Müller, Jean Genet, and Witold Gombrowicz, to name a few. He was the co-founding Artistic Director of Collected Works, a San Francisco-based theatre collective that specialized in novel interpretations of classic plays, usually performed in non-traditional spaces. He was also the founding curator of the Franconia Performance Salon, an alternative art/performance series that ran in San Francisco from 2010-2020.