Sylvan Oswald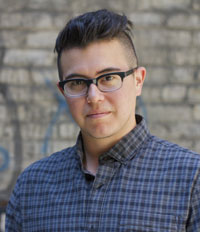 Sylvan Oswald is a trans interdisciplinary artist who creates plays, texts, publications and video. Currently, he is working on Season Two of Outtakes, a lo-fi mock doc semi-improvised web series. Culturebot's Andy Horwitz says of the series, "This is the kind of vital, vibrant, important work that mainstream media never makes…but pushes the whole thing forward." The Dallas Morning News called Oswald's world premiere of Profanity, at Dallas' Undermain Theatre, "brilliantly good." Other plays include Sex Play (Playwrights Horizons/Clubbed Thumb Superlab), Sun Ra (Joe's Pub),Nightlands (New Georges), Pony (About Face Theater, Chicago) and Vendetta Chrome (Clubbed Thumb Summerworks).
Collaborations include text for Dan Hurlin's Disfarmer, which premiered at St. Ann's Warehouse and Zoetrope, a music-theater work created with composer/director Alec Duffy designer Mimi Lien and developed through the Princeton Atelier. Awards include a Jerome Fellowship, a Six Points Fellowship, and the Dorothy B. Strelsin Playwriting Fellowship at Soho Rep.
Prior to teaching at the UCLA School of Theater, Film and Television, Oswald helmed the Playwriting/Screenwriting program at Purchase College/ SUNY and taught playwriting at Barnard, Mt. Holyoke, Princeton, and Eugene Lang College.
With Jordan Harrison he published four issues of Play A Journal of Plays. His micro-play, Little Thing, is forthcoming in The Best American Non-Required Reading 2014 and his writings about new plays have appeared in PAJ and The Brooklyn Rail.
Oswald is an affiliated artist at Clubbed Thumb and a resident playwright at New Dramatists.
Official website: sylvanoswald.com.
Education
B.A. Barnard College

M.F.A. Brown University
Research
Playwriting

New Plays

Web Series

Queer Theater

History of American Theater

Zines / Experimental Publishing
Publications
Selected Plays and Video
 OUTTAKES, original web series, Lo-fi mock-doc semi-improvised. 2 seasons as creator, writer, director, editor. 2013-2015. 

SUN RA VISITATION SERIES directed by Charlotte Brathwaite, featuring the Burnt Sugar Arkestra at Joe's Pub Nov 2013, Jan 2014

PROFANITY, full-length play, Undermain Theatre, world premiere, directed by Katherine Owens, 2013. 

NIGHTLANDS, full-length play, New Georges, World premiere production, directed by Tamilla Woodard, 2011.

PONY, full-length play, About Face Theatre, World premiere production, directed by Bonnie Metzgar, 2011.

DISFARMER, text for large-scale puppet theater Commission from Dan Hurlin. World premiere St. Ann's Warehouse, 2009. US Tour.

VENDETTA CHROME, full-length play, Clubbed Thumb Summerworks production, directed by Alexis Poledouris, 2008. Books and Articles

"Little Thing," a micro-play, in Best American Non-Required Reading 2014. Edited by Daniel Handler and published by Mariner Books, Houghton Mifflin Harcourt.

"Little Thing," in 15 Second Plays by the Debate Society published by Ugly Duckling Presse.

"Sex Takes A Stage," virtual roundtable moderated by Caridad Svich in The Dramatist, August 2013.

"The Two Writings," in PAJ: A Journal of Performance and Art, Issue 100, 2012.

Play A Journal of Plays (Vols. 1-4 as Founding Co-Editor and Publisher), 2003-2011.

Interview with Adam Symkowicz: http://www.aszym.blogspot.com/, 2011.

Interview with Culturebot: http://culturebot.net/2010/01/5295/five-questions-for-sylvan-oswald/, 2011.

Little Revolution, a one-act play published by Playscripts, Inc, 2009.

"Behold a Trojan Horse: The Cataract's Clear Vision Stalks Off-Broadway," in The Brooklyn Rail, 2006. 

"House/Lights: Richard Maxwell's Early Plays," in PAJ: A Journal of Performance and Art, Issue 82, 2006.

PAINFUL ADVENTURES excerpted in literary journals Encyclopedia #1, Factorial #4, Play a Journal of Plays #1, 2003.