Uri McMillan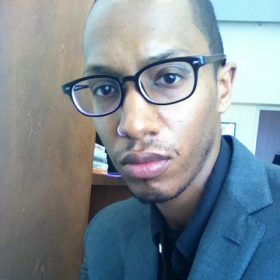 Uri McMillan is a cultural historian who researches and writes in the interstices between black cultural studies, performance studies, queer theory, and contemporary art. His first book,Embodied Avatars: Genealogies of Black Feminist Art and Performance (NYU, 2015) is on black performance art, objecthood, and avatars staged by black women artists. He has published articles on performance art, digital media, hip-hop, photography, and nineteenth-century performance cultures in varied arenas such as Women and Performance: A Journal of Feminist Theory, Souls: A Critical Journal of Black Politics, Culture, and Society, GLQ: A Journal of Gay and Lesbian Studies, and e-misferica (all are available for download at urimcmillan.com). In addition, he has lectured at art museums, including MoMA PS1 and the Hammer Museum, and published numerous essays on black contemporary art for the Studio Museum of Harlem. His work has been supported by the Ford Foundation and the Woodrow Wilson Foundation.
Education
Ph.D. Yale University, 2009
Courses
Disability Narratives, UCLA, Winter 2013.
Performance, Media, and Cultural Theory, Spring 2013.
On Hip-Hop: The Poetics and Politics of a Form, UCLA, Fiat Lux Seminar, Spring 2012.
Queer of Color Critique, UCLA, Spring 2012. Contemporary African-American Literature, UCLA, Fall 2011.
Afro-futurism, UCLA, Spring 2011. Black Popular Cultures, UCLA, Winter 2011. Post-Stonewall GLBT Literature, UCLA, Winter 2011.
Selected Publications
Embodied Avatars: Genealogies of Black Feminist Art and Performance, (New York University Press, 2015). NYUAmazon Introduction
"Nicki-aesthetics: The camp performance of Nicki Minaj,"Women and Performance: a journal of feminist theory, Special Issue: All Hail the Queenz: A Queer Feminist Recalibration of Hip-Hop, Vol. 24, Issue 1, March 2014: 1-9.LINK
"Objecthood, Avatars, and the Limits of Human," GLQ: A Journal of Lesbian and Gay Studies, Special Issue: Queer Inhumanisms, ed. Mel Y Chen and Dana Luciano (spring 2015)
"Mammy-Memory: Staging Joice Heth, or the Current Phenomenon of the 'Ancient Negress,' "Women and Performance: a journal of feminist theory, Special Issue: Aging, Vol. 22, No. 1, March 2012, 29-46. LINK
"Crimes of Performance," SOULS: A Critical Journal of Politics, Culture, and Society, Special Issue: Race, Crime, and Capital. Vol 13., Issue 1. 2011: 29-45. LINK
"Relics of the Future: The Aesthetic Wanderings of Simone Leigh." Evidence of Accumulation (exhibition catalogue), New York: The Studio Museum of Harlem, 2011: 6-8. LINK
"Ellen Craft's Radical Techniques of Subversion," e-misferica: Performance and Politics in the Americas, Issue 5.2, Race and Its Others, 2008. LINK