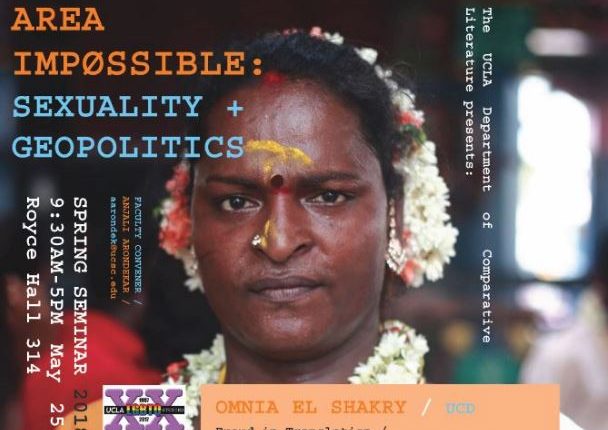 The UCLA Department of Comparative Literature proudly presents the "Area Impossible: Sexuality and Geopolitics Symposium" which will be held May 25 @ 9:30 am – 6:30 pm in Royce Hall 314.
This spring seminar will discuss how within queer studies, the geopolitical has posed a much-needed challenge to the spatial and temporal logics of the field (logics that often mire the field in the US), especially in the aftermath of the turn to transnationalism. Comparative literature has historically fashioned its domains outside US borders, but despite its range has remained somewhat tied to nationalist coagulations/formations.  This symposium brings together speakers who engage comparative analytical forms towards a more disruptive and capacious queer geopolitics.
Speakers will include:
Omnia El Shakry, Professor of History, UCD
Stephen M. Best, Associate Professor of English, University of California, Berkeley
Sima Shakhsari, Assistant Professor of Gender, Women, and Sexuality Studies, University of Minnesota
Rajiv Mohabir, Assistant Professor of English, Auburn University
This event is open to the general public.
To RSVP, please visit the Comparative Literature website.