Q Scholars and the Program in LGBTQ Studies is proud to present the 2023 annual Q Grad Conference, to be held in person in Royce Hall on May 19, 2023.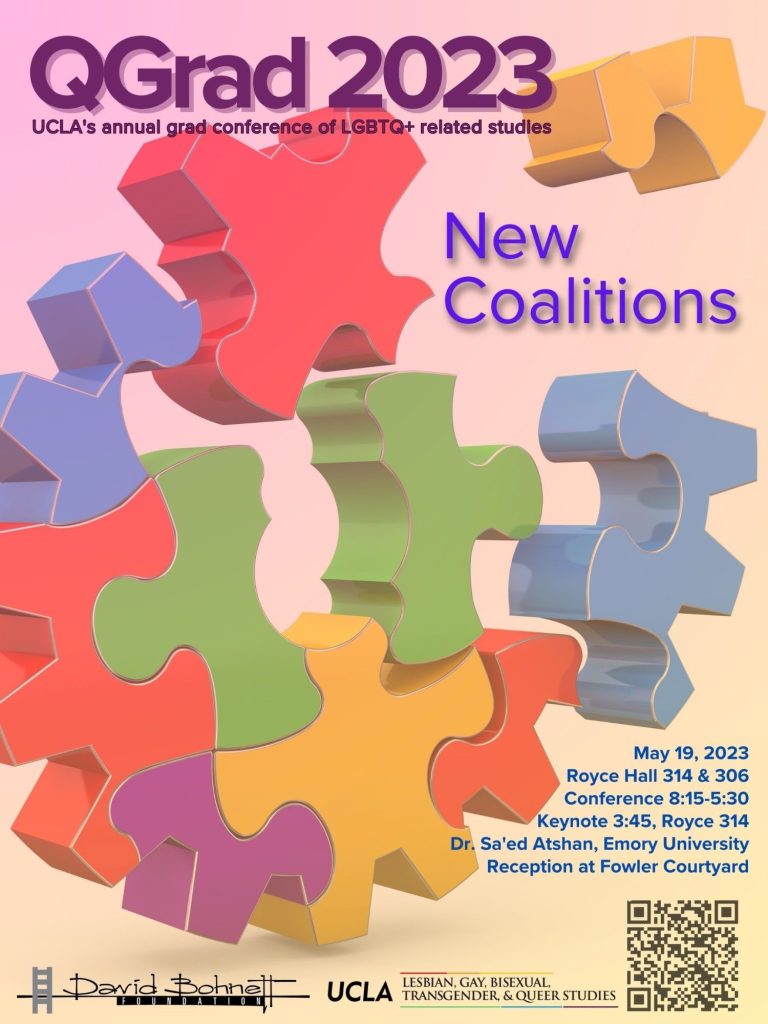 This year's conference theme is New Coalitions, a theme which speaks to the rich new forms of coalitional thought and practice emerging in our complex 21st-century world. The day's varied assortment of graduate student-led panels includes discussions of suturing borders, scrambling archives, trusting spaces, the aesthetics of solidarity, and emerging conceptions of care, to name a few.
Our keynote speaker is Dr. Sa'ed Atshan of Emory University, whose career links research to activism, and includes work with Israelis and Germans to repair the situation in Palestine/Israel, research about the parallels and disjunctures between African-American and Palestinian Quakers, and an ongoing study about LGBTQ movements across North Africa and the Middle East.
The day-long conference — which is generously supported by the David Bohnett Foundation and features graduate presenters from UCLA, UC Berkeley, UCSC, UC Davis, Princeton, and Yale — will run from 8:15am to 5:30pm, followed by a reception in the Fowler Museum Courtyard. All conference presentations will take place on the third floor of Royce Hall, in rooms 306 and 314.
To register for the conference, please fill out this Google form; once you're registered, you'll receive updates with a full schedule of panels and other events, including some performances.
Interested in Volunteering?
LGBTQ Studies is currently seeking volunteers who are interested in supporting this year's conference on Friday, May 19th. Volunteer activities include registration support, reception set up, room management, and other general activities. For those interested, please reach out to the conference organizers at UCLALGBTQ@gmail.com